About the Winner
2017 WINNER
Julia Voss
Olivet Nazarene University
Long Grove, IL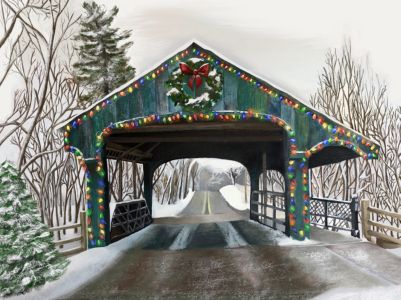 Julia is a senior at Olivet Nazarene University pursuing a Bachelor's Degree in Business Administration. She has been blessed with a passion for both art and business and plans to utilize both of these strengths in her career. Julia's passion for art began as a child and will continue into the future. With the award of this generous prize, Julia has peace of mind that she can follow her career goals and dreams without the immense financial stresses that most new college graduates face when starting their career.

Julia first learned about this scholarship opportunity in 2011, since then she has made 4 other potential submissions for this contest, all of which she was not confident enough to submit. "Winning this scholarship has been a goal of mine for many years and this dream has now come to fruition."

Julia's greeting card design was inspired by the beautiful covered bridge in her hometown of Long Grove, Illinois. The town of Long Grove is especially nostalgic during the holiday season when it's covered in a fresh snowfall. Her artistic interpretation of the bridge is intended to capture the childlike essence of Christmas, where every light bulb glows vividly and every tree branch is dusted with snow. Julia sincerely hopes that her artwork evokes a spirit of serenity in all who are greeted with this card.

CONGRATULATIONS JULIA from EVERYONE AT "THE GALLERY COLLECTION"!
Message Us
Please enter all required fields.
Please enter valid email address.