Simply put, a correspondence note card is a high quality buff colored index card that comes with a matching envelope. However these "index cards" can be customized with one line of type at the top in blue, black or gold/silver foil imprinting in a variety of font choices.  Customization options can be professional (company name), personal (your name) or generic (Thank You, Thinking of You or Just a Note).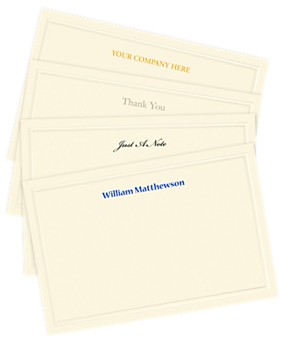 What would you use these for?  These cards are great when sending an email is too impersonal and a full size greeting card is too much. They can be sent as special recognition to an employee for "a job well done" or as a "thank you for your time" after an interview.  They can be included as a professional gift enclosure or as a reminder for an upcoming event or meeting. They can be mailed via the post office or sent to the recipient via inter-office mail. On a personal note, they can be tucked into a child's backpack for the teacher when a note might be needed or slipped under a neighbor's door to advise "we are having a neighborhood garage sale, care to join us?".
The uses for these small yet elegant single sided cards are as endless as your imagination. They don't seem like much but once you have one box, you will surely find a myriad of reasons to take pen to paper on them!